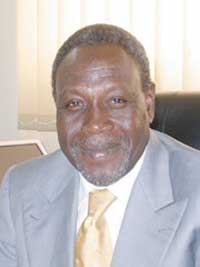 By Ben Ezeamalu
The Afenifere Renewal Group has criticised Babagana Kingibe, the former vice presidential candidate in the annulled June 12, 1993 election, for his comments on the election.
In a statement Wednesday, the ARG described the 'June 12 struggle' as an albatross for those who betrayed its cause, particularly Mr. Kingibe.
In May, Mr. Kingibe, who was the running mate of M.K.O Abiola in the 1993 election, said that the victory of the All Progressives Congress over the Peoples' Democratic Party at the recently concluded general election had finally laid to rest the ghost of the annulled June 12 election.
"For me, for the first time since 1992, perhaps Nigerians have purged themselves of the ghost of June 12," Mr. Kingibe said. "Several paradigms manifested. Perhaps now, the ghost of June 12 can rest due to the effort made by all through these years of trials and tribulations."
However, the ARG hit out at Mr. Kingibe, stating that his antecedents disqualified him "from commenting on or identifying with the success of a democratic campaign".
As the vice-president elect, Kingibe ought to be the captain of the ship for the June 12 struggle when Chief M.K.O Abiola was arrested but he was the first to jump ship," said the statement issued by Kunle Famoriyo, ARG's publicity secretary. "ARG understands that Kingibe may have missed being in the corridors of power and may be itching to have a voice that could be reckoned with as credible – therefore, his wish to have June 12 'laid to rest'".
"Kingibe's undemocratic and treacherous antecedents disqualify him from commenting on or identifying with the success of a democratic campaign. Instead of wishing that June 12 be forgotten, it is better for him to retrace his steps and purge himself of ethnocentric perspectives."
The ARG said that June 12 would forever be a watershed in Nigeria's annals because it imbued Nigerians with a consciousness that the power of the people is greater than the people in power.
"It has, over the years, evolved into an unwritten code of judgement against those who monger power to nurture selfish ambitions, suppress the people, or enhance ethnocentric bigotry," the statement said. "June 12 ensured that such people will always have their place in a dishonourable section of history."
The group said June 12 successfully hoisted the flag of democracy in Nigeria. It noted that each positive step that Nigeria took towards good governance, true federalism, and concrete nationhood would continue to haunt those who played their part in subverting its cause.
"ARG urges the new administration to formally recognise the June 12 mandate and honour those who lost their lives to that struggle," the group added.
Curled from premiumtimesng.com