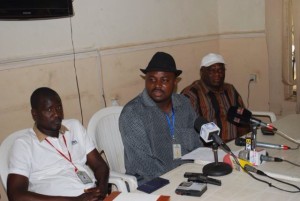 By Muhammad Ibrahim
Kaduna (Nigeria) – Academic Staff Union of Polytechnics (ASUP), Kaduna Polytechnic Chapter, has declared a 3 day work-to-rule action over unpaid allowances.
They also threatened a total shutdown of the institute if the management failed to yield to their immediate, legitimate demands. .
ASUP Chairman, Musa Ibrahim who disclosed this to newsmen urged the administration of President Muhammadu Buhari to revisit the issue of converting the institute to university.
He explained that their demands were within the management control if they truly wants peace in the institute.
"Our present status has defied immediate remedies, as many problems confront our institution,
"Infrastructural decay has taken a huge toll on us. Our prospects of contributing more to our nation's development are underutilized.
"We are grossly underfunded, and this has translated in all facets of our institution.
" The morale of our members is low and even getting lower.
" As I speak now, our union has commenced a mass action over our management's unwillingness to yield to our immediate, legitimate demands.
"You may have heard, two weeks ago, that we had contemplated going on strike. It is very true.
" We had only stayed action on the strike because of our commitment to ensuring the survival of the system in the interest of our students.
"But our magnanimity is already being taken for granted as we believe that, the issues in contention are very much within management's control, if they genuinely want peace.
"Out of over 10 critical areas where we have found our management wanting, the contentious Excess workload allowance,
"In particular, is not beyond the management's immediate intervention.
"The unjustifiable removal of the allowance remains condemned; its immediate reinstatement remains unconditional.
"We stand uncompromised. We have given the benefit of restraint for which management has failed.
"We have declared a work-to-rule action for three days beginning from today.
"Our members will make appearance in class, but will not teach.
"If our grievances are not addressed, we shall proceed on a 3 days warning strike, after which we shall declare a total shutdown, should the need arise," he said.
He said the union is committed to peace and industrial harmony of the Polytechnic.
"We believe the institution's interest and our members' welfare should be of paramount concern.
"We are also of a strong belief that, our management can save the impending debacle by immediately addressing our demands.
"While we acknowledge that, the more challenging constraints of the institution can only be remedied by a much more holistic intervention by the federal government.
"We are confident that, our final, immediate conversion into university is the only panacea that will reposition Kaduna Polytechnic.," he said.
The union also commended the Nigerian Government over conversion of four Colleges of Education, including FCE Zaria into universities.