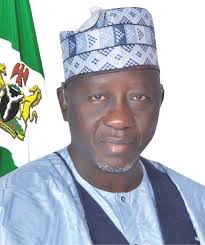 By Longtong Ibrahim
Jos (Nigeria) – Governor Tanko Al-makura of Nassarawa state, North central Nigeria has on Monday loss his mother-in-law, Hajiya Aisha Mamman Musa,
Report says Hajiya Mamman died in the morning in her residence in Jos, Plateau State.
Aged 85 years, she is survived by eight children and 50 grand children.
She has since been buried according to the Islamic rite.
Among the the early sympathisers were Nigeria's First Lady, Hajia Aisha Buhari, and senators representing Nasarawa State in the National Assembly, namely Senator Amed Lawan, Senator Abdullahi Adamu, and Senator Solomon Ewuga.
Speaking, Senator Lawan said, "God Knows why she goes at this time, we pray for her soul to rest in peace."
Responding on behalf of the family, Governor Al-makura thanked them for sympathizing with the family, saying that their visit has overwhelmed him and the family, "thank you for sympathizing with the family at our trial moment, only God will reward you," he added.
He described her dead as a loss to the family and prayed God to accept the spirit of the departed.
Describing the deceased, her second daughter Aisha Dahiru Ibrahim, described her mother as a generous, loving, accommodative mother, who preaches peace among her children and other people.