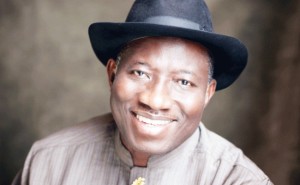 By Olalekan Adetay
Abuja (Nigeria) – President Goodluck Jonathan on Monday signed two bills, earlier passed by the National Assembly, into law.
The bills, which have now become Acts, are the Violence Against Persons (Prohibition) Act 2015 and the Immigration Act 2015.
Special Adviser to the President on Media and Publicity, Dr. Reuben Abati, confirmed the development to State House correspondents.
Jonathan signed the bills into laws barely four days to the expiration of his tenure.
The President-elect, Muhammadu Buhari, is billed to be inaugurated as the country's next President on Friday.
The Senate had on May 4 passed the Violence Against Persons (Prohibition) Act 2015 into law.
The Act seeks to prohibit female circumcision or genital mutilation, forceful ejection from home and harmful widowhood practices.
It also prohibits abandonment of spouse, children and other dependents without sustenance, battery and harmful traditional practices.
It also intends to eliminate violence in private and public life and provide maximum protection and effective remedies for victims of violence, and punishment of offenders.
The law also prohibits economic abuse, forced isolation and separation from family and friends, substance attack, depriving persons of their liberty, incest, indecent exposure, among others.
The bill was sponsored by the Leader of the Senate, Victor Ndoma-Egba.
In his remarks, Deputy President of the Senate, Ike Ekweremadu, who presided at the session where the bill was passed, said the passage of the bill would provide adequate protection for the vulnerable in the society and punish those who take advantage of them.
Curled from the Punch Newspaper