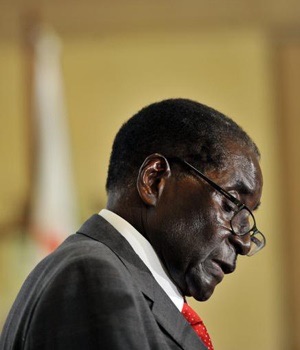 News24 Correspondent
Harare (Zimbabwe) – Political economist Moeletsi Mbeki said Zimbabwean President Robert Mugabe deserved an award for bad leadership this week – and it led to an awkward moment for the US embassy in Harare.
The embassy was live-tweeting Mbeki's speech from a Mandela Washington Fellows conference in Johannesburg on Tuesday when the brother of former president Thabo Mbeki reportedly said that he would give a "gold" award for worst leadership to Burundi President Pierre Nkurunziza and Mugabe.
The embassy quoted Mbeki on its official Twitter feed, leading Zimbabwe's information minister Jonathan Moyo to accuse it of "undiplomatic" behaviour.
Moyo tweeted Wednesday: "How does an accredited diplomatic mission in Harare go down the gutter to fetch & peddle this rubbish? Undiplomatic!"
His comments sparked a lively conversation on social media. User @VeeMasi said: "I'm sure they were just live tweeting & now it's being taken out of context."
But others said Mbeki's criticism of Mugabe shouldn't have been carried on an "institutional" account.
Strained relationship
Zimbabwe's relationship with the US has been strained in the past over allegations of rights abuses by Mugabe's government.
The US maintains sanctions on Mugabe and more than 100 top officials but says claims that Washington is preventing Zimbabwe's access to international financial assistance are a "myth."
In an apparent climb down, the US embassy later re-tweeted Moyo's "undiplomatic" complaint, prefixing it with the single word: "Agreed."
Mbeki said he'd give a bronze medal for poor leadership to South African President Jacob Zuma and his brother Thabo Mbeki.
Curled from News24