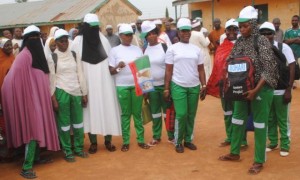 By Mohammad Ibrahim
Kaduna (Nigeria) – Ten women from Kaduna, Northwest Nigeria have joined the league of people trekking to Abuja, the capital of Nigeria, to meet with president-elect, Muhammadu Buhari and his vice Yemi Osinbanjo.
The women took-off Wednesday, from LEA primary school Unguwar Mu'azu, a suburb of Kaduna at 9: 30 am.
Addressing journalists before leaving, Leader of the team, Malama Bilkisu Ibrahim said they decided to embark on the journey to present a copy of Quran and Bible to both Buhari and his vice.
"We embark on this journey to express our joy as Nigerians and women since we had the change in government.
"We also want to tell the president-elect that women were the majority that voted for the change in this country and so they shouldn't be left out of the government.
"We love this country and our trekking is based on unity of this country.
"We agreed to walk together as a family and we hope this new government will lead us with justice and equity," she said.
Malama Bilkisu said their group also comprised of Christians and Muslims who believed in the unity of Nigeria.
"We wrote a letter informing the state commissioner of Police before embarking on this journey and we were advised to avoid night walk.
She added that they also made arrangement with Federal Road Safety Personnels to give them a cover throughout the journey.
She called on the president-elect to kindly provide meaningful development across the country.