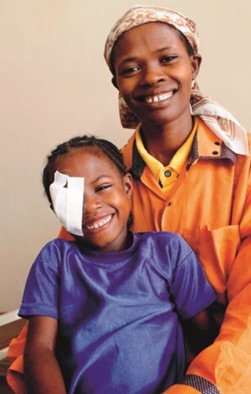 Vienna (Austria) – For many years, LIGHT FOR THE WORLD has been contributing to the constant drop of the global blindness rate. When the organisation first started 25 years ago, 0.6 per cent of the world's population were still blind, whereas today thanks to a global effort, only 0.47 %* are affected.
LIGHT FOR THE WORLD not only combats avoidable blindness, but also supports people with various disabilities. In 2014 more than 59,000 children with disabilities accessed different kinds of rehabilitation and assistive devices, with 11,500 also receiving school education.
This was only possible thanks to the support of donors, foundations and public institutions, among them Bausch + Lomb, CROMA Pharma, Else Kröner-Fresenius-Stiftung, Fondation L'OCCITANE and Sint Antonious Foundation.
Progress in the elimination of Trachoma
Trachoma is one of seven neglected tropical diseases (NTD) that are on track to be eliminated by the year 2020. LIGHT FOR THE WORLD managed to complete the mapping of trachoma in suspected endemic regions in Ethiopia and Mozambique in 2014.
After the completion of the global mapping project which is funded by the UK government, this highly painful and blinding disease will be tackled worldwide by applying a strategy called SAFE. It involves Surgeries, Antibiotics, Facial cleanliness, and Environmental change (access to clean water).
Patients who already suffer from trachoma are treated with medication and eye-lid operations.
New eye clinic in Mozambique
In July 2014 the groundbreaking ceremony for a new eye clinic took place in Beira, Mozambique's second biggest city. The clinic will serve as eye-care hub for two million people in the province of Sofala. Starting from next year, 1,200 eye surgeries will be carried out annually and, most notably, thirty eye-care professionals will be trained every three years.
Source: APO