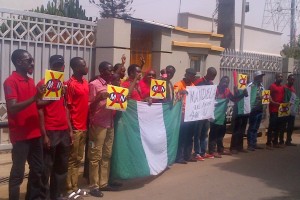 By Mohammad Ibrahim
Kaduna (Nigeria) – Reject Nigeria South Africa Group has protested against the ongoing killings of foreigners residing in south Africa with a call on Nigerian government to cut ties with South Africa.
The youths in red T-shirt and black trousers stormed MTN office in Kaduna Northwest Nigeria to express their grief over the killings.
The group also gave 24 hours ultimatum to the south African government to end the killings which they described as madness.
The Nigerian youths raised placards with inscriptions including " Zuma is insincere"' Nigerians once Freed you from Agony " All South African companies must go" FG Recall Nigerian envoy to South Africa"
"Mandela will never forgive 'U' " No to killing of Foreigners in South Africa" " No to killing of Nigerians in South Africa" " No to all South African Companies " Blacks are not animals" among others.
The group urged Nigerians to boycott all South African services from MTM and DSTV until the killings stop.
The youth issued a threat that failure to end the killings of foreigners in South Africa may led to devastating consequences to all South African companies operating in Nigeria.
A letter signed by the group National coordinator. Comrade Yusuf -I- Yusuf and National Strategic Committee Ambassador Umar Galadima respectively was issued to MTN management during the protest.
The letter was copied to United Nations, African Union, ECOWAS, Nigerian President and South African Ambassador to Nigeria.
"we the concern citizens of Nigeria Reject South Africa group hereby call for immediate stoppage of hostility on lives of Nigerians and other foreign nationals in our black sister nation South Africa.
"The black race and humanity at large will no longer tolerate the laxity of your government in protecting the lives and property of Nigerians and other foreign nationals who are there to contribute to your national economic growth and productivity.
"while we accommodate your multibillion dollar investments without any economic sanction or intimidation on lives of any of your citizens.
"The escalating situation of ethnocentricity in your country may result to African instability and that cannot be accomodated in 21 st century.
"we hereby once agains say no to xenophobia and call for immediate halt to the killings and destruction of property." The letter reads.
Receiving the letter from the leaders of the group, MTN Kaduna Manager, Danjuma Musa promised to forward the letter to the appropriate authorities.