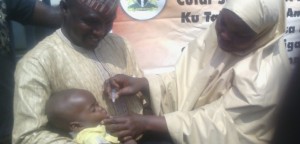 By Mohammad Ibrahim
Kaduna (Nigeria) – Kaduna State Primary Health Care Agency (SPHCA) Executive Secretary, Dr Sufiyan Mu'awuyya Babale has tasked parents to ensure their children were immunized against Polio.
He stated this while commenting on the ongoing immunization exercise in the state, saying the Agency has already distributed vaccines to all the Local Governments in the State for the exercise.
Mu'awuyya also commended development partners for their giant stride aimed at ensuring the eradication of polio in Nigeria.
He also commended efforts of Traditional rulers and religious leaders for their efforts and urged them to redouble efforts for the progress of the exercise.
In a statement signed by secretary of Journalists Against Polio (JAP) Kaduna State Chapter, Lawal A. Dogara, about 2 million children between 0 – 5 years are expected to be immunized in Kaduna state.
JAP Secretary also explained that health camps have been set up for distribution of free drugs within the state.
He confirmed that adequate steps have been taken by the State Government to ensure all eligible children were vaccinated.