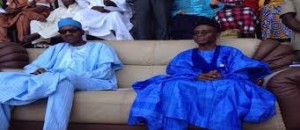 By Mohammad Ibrahim
Kaduna (Nigeria) – Nigerian Association of the Blind (NAB) has lauded President-Elect, Muhammadu Buhari and Kaduna State Governor-Elect, Nasir El'Rufai over their victory at the last general elections in the country.
The group says the victory at the polls didn't come as a surprise, because of the tract record of the duos achievements.
This was contained in a statement signed by the group's Chairman, Aliyu Mohammed Salisu.
According to the statement, the group will soon organise a Dinner to celebrate the duos victory.
"We indeed write to felicitate with you and to further pledge our unalloyed loyalty and unflinching support to all the transformation you will bring to Kaduna state on the course of your governance.
"This letter is not only to congratulate you, but to also pray that God will grant you long life, good health, wisdom and courage to perform your duties because you are somebody who has concern for us," he said.
The statement says no aspirant has identified with the group during campaign as El-Rufai did.
Buhari and El-Rufai both of the APC political party have defeated incumbents to emerge as President-Elect and Governor-Elect in Nigeria's just concluded general elections.