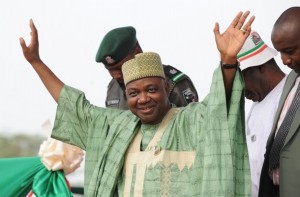 By Bello Adisa
Kaduna (Nigeria) – Vice President Mohammed Namadi Sambo has told contestants in the governorship and state houses of assembly elections to accept the outcome of the polls.
This was as he told the contestants to accept the results by emulating the exemplary step of President Goodluck Jonathan who conceded defeat even before official announcement declaring his opponent, General Muhammadu Buhari winner of the race.
Speaking with newsmen shortly after casting his vote at his polling unit in Kaduna Northwest Nigeria, Sambo said at the end of the race a winner and a loser is bound to emerge.
According to him, "we always believe in the rule of law and whether Muslim or Christian, there is always one person that will be a winner. So, whatever the outcome, Mr President has gave a very good example by been the first to congratulate the President elect, General Muhammadu Buhari and I also did the same.
"It is expected that the President has put another standard into the politics of Nigeria and politics of Africa and believe the standard will be maintained. We are looking forward to all Nigerians to cooperate with this administration even though it will come and go but Nigeria remains.
"All of us can contribute to development of the country whether inside or outside the government. So, the outcome should be taken in good faith and make Nigeria move forward," VP Sambo said.
On the low turn out witnessed in the polls in Kaduna, Sambo said "I cannot say precisely what is responsible for the low turn out, but it happened like that,"