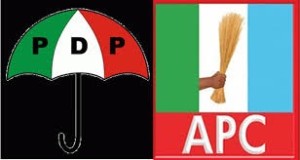 By Mohammad Ibrahim
Kaduna (Nigeria) – Governorship candidate of All Progressives Congress (APC) in Kaduna State, Nasir El-Rufai has alleged a plot by Peoples Democratic Party (PDP) to rig Saturday's governorship election in the state.
El-Rufai who disclosed this when he featured in a Freedom Radio Kaduna breakfast programme 'Barka da Warhaka' said PDP is presently working to undermine Permanent Voters' Card and Card Reader device so as to ensure massive rigging in the state.
"We got credible intelligence alerted the police, military, DSS and INEC.
" They have been running from pillar to pillar in the name of thwarting effectiveness of Card Readers.
"They adopted using of armed thugs to intimidate voters and carry out ballot snatching and stuffing of boxes for declaration.
"They planned to withhold result sheets and other plots.
"They met with some security personnel and sealed deals and we submitted all the details with empirical evidences to the authorities.
" And so, we are watching closely and will not give them a chance." He said.
He further alleged that PDP is recruiting and arming thugs to disrupt the election, adding that no one will perpetrate crisis in the state and go free.
"It is not war or fight, it is supposed to be a competition and so, no one will escape prosecution if he incite crisis in our state.
He added that the coming government of General Buhari will follow all cases to the later.
But in a swift reaction, State PDP chairman Abubakar Gaiya Haruna while fielding questions from newsmen shortly after a closed door meeting with groups in the state denied the allegations, saying he will not respond to such baseless allegations.