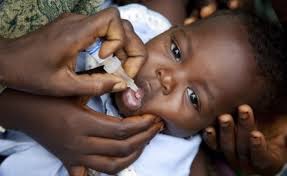 By Mohammad Ibrahim
KADUNA (Nigeria) – Over 3 million children of between 0 – 5 years are expected to be immunized during the March 13 – 18, 2015 Immunization Plus Days (IPDs) in Kaduna state, Northwest Nigeria.
Executive Secretary, Kaduna State Primary Health Care Agency (SPHCA), Dr Sufiyan Mu'awuyya Babale told journalists at the commencement of the vaccination exercise.
He said 86 health camps in 16 LGAs have been set up for distribution of free drugs for the exercise.
The Executive Secretary urged parents in the State to support the process and ensure that no child is left unimmunised, adding that required arrangements have been made to ensure all eligible children were vaccinated.
Dr Sufiyan said the Agency have already distributed vaccines to all the 23 Local Government Areas for the exercise.
The Executive Secretary commended the role of Traditional and religious leaders and urged them to redouble efforts for the progress of the exercise.
He also commended Development Partners for their giant strides aimed at ensuring the eradication of polio in Nigeria
Speaking in the same vein, Secretary of Journalists Against Polio (JAP), Lawal Dogara, commended the effort and commitment of Kaduna State Government in polio eradication initiative.
He also expressed commitment of JAP in providing continued media support for polio eradication drive in Nigeria.
Send your stories and articles to news@africaprimenews.com