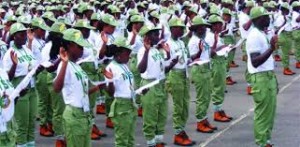 By Longtong Ibrahim
About 134,000 Corps Members would be engaged as ad-hoc staff in the conduct of Nigeria's forth-coming general elections – they have already been accredited and trained by Independent National Electoral Commission (INEC) in the coming elections.
Director-General of the National Youth Service Corps (NYSC), Brig.-Gen. Johnson Olawumi stated this while briefing journalists in Abuja.
Olawumi said about 34,000 of Corps members who recently passed out were also trained by the electoral body to participate, but that they would neither wear NYSC uniforms nor be under the care of the scheme.
"You are all aware that we have an existing MOU with INEC on the participation of corps members on election duties.
"However, for 2015 election, INEC brought a new dimension by asking interested corps members to register on line, and as at the close of registration in January this year, we had about 168,000 registered corps members to serve as ad-hoc staff.
"We always have three batches of corps members and because the election was slated then for February 14, the Batch A of last year that registered and were supposed to participate in the election passed out February 19. Initially, our plan was to use them for the elections, but since keeping them due to the postponement of the elections would violate the NYSC Act, we had to pass them out." He said.
Director General said the scheme in collaboration with the security agencies had put in place measures to ensure adequate security of corps members participating in the polls.
send your stories and articles to news@africaprimenews.com