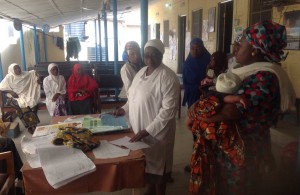 By Sekyen Dadik
KADUNA (Nigeria) – The importance of effective family planning in any nation's development cannot be over stressed, as it plays a significant role in reducing poverty and maternal mortality.
Family planning gives couples the opportunity to achieve a desired number of children with adequate spacing thereby promoting a healthy life for the mother and children.
According to the Project Director, Nigeria Urban Health Reproductive Initiative (NUHRI), Mojisola Adeku, for Nigeria to accelerate the attainment of MDGs 4, 5 and 6 that pertained to survival of the child, survival of the women and survival of the family, family planning must be embraced – it contributes to 30 per cent reduction in maternal mortality. It also contributes to 25 per cent of reduction in child deaths.
In one of her visits to Kaduna Moji said "ur objective is to meet the unmet needs of the urban poor. It is sad to note that in Nigeria, one in every 13 women is likely to as a result of childbirth complications.
"Nigeria is second to India in terms of these preventable deaths. What do we do to make pregnancy safe in Nigeria?
"It is not enough to know the number of people dying but to understand the causes with a view to providing solution," she said.
But in spite of effort by government and development partners to ensure adequate Family planning programmes, certain factors have continue to militate against the success of these programmes in Nigeria.
The National Bureau of Statistics (NBS) in the "2012 Millennium Development Goals Performance Tracking Survey Report," revealed that family planning has remained low due to lack of contraception commodities and effective campaigns for child-spacing in urban and rural areas.
"Only about 17.3 per cent of women between 15 years and 49 years used any method of child-spacing in 2012.
The report showed that, there is a high knowledge of contraception in Nigeria as 85 per cent of women and 97 of men have knowledge about a contraceptive method.Yet a wide gap exists between knowledge and use of these contraceptives. Hence only 15 per cent of married women use a contraceptive method.
So many factors account for these gap between the knowledge and usage of contraceptives.
According to the Nigeria Family Planning Blueprint (Scale-Up plan) 2014, "Poor demand is a significant barrier to Family Planning access caused by low knowledge, especially of Long Acting Reversible Contraceptive methods (LARC)".
The draft also noted that misconception and opposition contribute to the low usage of contraceptives, adding that intention to use is low, as 63% of women have no intention to use any of the available methods.
Other factors include cultural beliefs which have also contributed to poor response of women to family planning services. In many cultures women have no right to take decisions; hence, they depend on their husbands for every decision even as it pertains to their health and that of the family at large.
Also religious beliefs especially among certain sects militate against the success of Family Planning as use of contraceptives is perceived to be a sin against God.
One other salient reason is the misconception women hold towards family planning which primarily stems from shared experiences.
Educated women and even professionals in the medical field deliberately decide to shun family planning services, simply because of another person's experience. On several occasions, women make excuses like "Mrs. A used a method and could not conceive till after 7 years, hence I rather not use a contraceptive and suffer same fate".
Many women also believe use of contraceptives lead to uncontrollable weight gain, so they would not use any for fear of adding weight.
To checkmate these beliefs and misconceptions, there is the need for continuous sensitization to encourage women to seek medical attention to ascertain which method fits them and not rely on anyone's experience.
Also sensitization through traditional and religious leaders will go a long way in encouraging couples especially those in the rural areas enjoy the different family planning services provided for them.