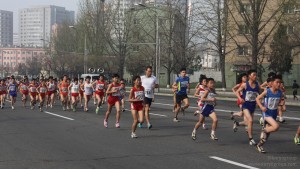 by Longtong Ibrahim
North Korean has banned foreigners from taking part in its international marathon which holds every year April in the country's capital, Pyongyang
A Beijing based Travel Agency, Koryo Tour said the act is related to fear of Ebola Viral Disease.
North Korea had since October shut out foreign tourists in fear of Ebola and imposes strict 21-day quarantine for foreign aid workers and diplomats, who are been told to stay in embassy compounds.
Director, Koryo Tours, Nick Bonner in a statement said the his partners in Pyongyang had informed his agency that the 2015 Pyongyang Marathon has – as of today been closed to foreign runners.
He added that, more than 400 foreign runners had signed up through agency for the event, which is to be held on April 12.
Another agency specializing in North Korea travel, Young Pioneer Tours also confirmed on its website that it was cancelling its tours for the event.
Bonner pointed out that, "We were told that this is due to the ongoing precautions that the country has put in place in relation to fears over the Ebola virus."
"It is still unclear when the borders will be reopened, but we were also advised not to cancel our March tours, and to expect an update on the border situation at the end of February," said Bonner.
North Korea is thousands of miles from countries affected by the Ebola outbreak.
Known officially as the Mangyongdae Prize International Marathon, the race is sanctioned as a bronze-label event by the International Association of Athletics Federations and has been held annually for 27 years.
It is held in conjunction with a series of sporting competitions, arts festivals and cultural events marking the birthday of North Korea's founder, Kim II Sung, on April 15